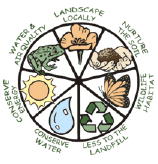 River-Friendly Landscaping is…
an environmentally friendly way of gardening. River-Friendly Landscaping practices are designed to conserve water, reduce yard waste, and prevent pollution of our air and local rivers.
Benefits
Benefits to you:
Saves money by reducing water, fertilizer, and pesticide use
Requires less maintenance such as mowing and trimming
Reduces yard waste
Attracts wonderful birds and butterflies to your garden
Benefits to the community and the environment:
Saves landfill space
Reduces air pollution by reducing the amount of yard waste that is transported to the landfill
Improves water quality by reducing pollution
Examples
Check out the following for examples of River-Friendly Landscaping:

Water Saving Tips:
Water-wise plants can be beautiful as well as practical.

Take your 'My List' Hydrozone Report to a landscape designer, or local nursery, when selecting and purchasing plants.
---
San Joaquin Master Gardener's drought/water conservation resources.
---
Stormwater Pollution prevention ideas.
---
Water Use Classifications of Landscape Species (WUCOLS) provides a guide to estimating irrigation water needs of landscape plantings in each of 6 distinct California climate regions. WUCOLS was developed by the University of California Cooperative Extension in cooperation with landscape professionals and funded by the California Department of Water Resources. Try their plant database search tool.
TEACHING THE MOKELUMNE RIVER WATERSHED: Lodi teachers are encouraged to use curriculum from the "California Education and the Environment Initiative" , http://www.californiaeei.org/. A $200 stipend will be given to any Lodi school teacher who successfully completes an EEi unit on water or stormwater. Contact Kathy Grant, City of Lodi Watershed Program Coordinator, for more information at (209) 333-6800, x2317, or kgrant@lodi.gov.
TRACK LODI'S WATERSHED EDUCATORS PROGRESS! LODI EEI BLOG: http://lodieei.wordpress.com.
For a custom irrigation schedule: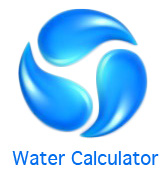 To learn more about gardening in the San Joaquin Valley, go to the University of California Master Gardeners' website
Lodi Lawn and Gardening Watering Guide

Storm Drain Detectives - Monitoring the Mokelumne River - Check Out Our Data (Data since 2000 available!)